CASE FILE

Vilis Arveds Hāzners

Press Coverage
Soviet Harvest

|

KGB propaganda bears fruit at long last
Fredric U. Dicker's article "breaking the news" of the case against Vilis Hāzners makes clear the propagandistic KGB origin of the charges against him—for those who recognize the players and understand the circumstances involved. We confirmed in correspondence with Dicker himself that until our contact (2015), despite the defense's accusations of propaganda during the proceedings—disallowed by Judge De Gaeto—it had never been communicated to him that the charges were, indeed, confirmed to have been fabricated by the Soviets.
Dr. Gertrude Schneider, the unwitting agent of delivery, was certainly unaware of the fabrication of charges at the time as well.
However, even after both the author of and the KGB agent passing the propaganda each independently confirmed the Soviet plot, their lies, and their roles as perpetrators, the propaganda lives on in the works of Holocaust activists and Nazis among us "exposés." Schneider's own works as recently as her Journey into Terror: Story of the Riga Ghetto–New and Expanded Edition (2001) still name Hāzners among those herding Jews into a burning synagogue in Rīga and incinerating them alive. Hāzners was conclusively proven to not have been present.[1] Schneider also names Herberts Cukurs, the so-called "Butcher of Rīga," whom Mossad agents assassinated by being beaten to death with a hammer, in the burning. Yet Cukurs arrived in Rīga only in mid-July, well after the horrific event took place.[2]
So, how is one to tell fact from hearsay and sheer fabrication? We have highlighted and annotated this, and subsequent reviews of press articles, to provide essential background and context.
Nazi probe's shadow reaches Capitaland[3]
Washington Co. resident linked to Latvian crimes
DRESDEN — Inside a modest, well-kept farmhouse overlooking the southern end of Lake Champlain lives aging, bespectacled Vilis Hazners, a native of Latvia who is not an American citizen. Neighbors say Hazners, 71, is a decent, somewhat reclusive, interesting man.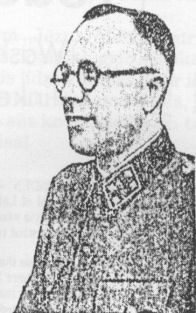 WW II EVIDENCE — This picture, above, from a Latvian publication has been alleged to be Vilis Hazners in a Nazi uniform during World War II. He now lives in Dresden, Washington County.
But inside that farmhouse in Washington County, just north of Whitehall off Route 22, there lives, according to others, a very different Vilis Hazners: 1Vilis Hazners, a man whose name appears in official Latvian publications in reference to alleged wartime atrocities; the 2Vilis Hazners who fought side-by-side with the German Nazis during World War II as a major in the Latvian Legion.
Hazners, by his own admission, is now being investigated for alleged war crimes by the U.S. Immigration and Naturalization Service.
Although an Immigration and Naturalization Service official said a loophole in immigration law makes it unlikely that 3Hazners, if the allegations against him are true, can be deported, he did not rule out that possibility.
Not so lucky is another Latvian emigre. 4Boleslavs Maikovskis of Mineola, Long Island, who is now undergoing Immigration Service deportation hearings as an accused Nazi-sponsored war criminal.
Hazners has served with Maikovskis on several Latvian emigre organizations and said last week in a brief telephone interview that he is "friendly" with him.
5The accusations against Hazners come from official present-day Latvian publications and from Dr. Gertrude Schneider, a City University of New York professor, Latvian history scholar, survivor of the Riga, Latvia, Jewish ghetto, and a naturalized U.S. citizen.
6During a visit to Latvia in 1971, Dr. Schneider, who had been deported from her native Austria to Latvia by the Nazis at the beginning of World War II, recalls a discussion with the Latvian culture minister in which he spoke of alleged atrocities committed during the war by persons now living in the United States, and "he mentioned the name of Hazners, among others."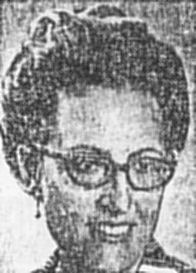 Dr. Gertrude Schneider, [above], a City University of New York professor, has accused him of aiding in wartime atrocities against Jews in Latvia.
7She returned with several official Latvian publications containing allegations against Hazners. The publications also contained several photographs of a military officer identified as Hazners including one, which could not be clearly reproduced, allegedly showing him in the company of high Nazi officials reviewing Latvian Legion troops.
The allegations appear on several pages of the publications, dealing with the 8activities of the Latvian Legion, Latvian police authorities and members of the "Perkonkrusts", or Thunder Cross organization.
According to the publications, many wartime Latvian collaborators aided the Nazis in the murders of tens of thousands of Jews and others considered "undesirable."
In a telephone interview last week, Hazners referred all specific questions to his Long Island attorney, Ivars Berzins, who refused to discuss them.
Hazners did admit to being a major in the Latvian Legion and fighting on the Nazi side against the Russians. However, he said the Legion was a "national group fighting for Latvia" and said, while a police official, he never committed any crimes.
Immigration and Naturalization officials in Washington and New York refused to discuss the allegations involving Hazners, citing the Federal Privacy Act which prohibits disclosure of such personal information.
Frank Kiley, the service's New York district director whose office investigates such matters, would not comment on the allegations contained in the Latvian publications.
"Many publications are made available to us and we look at them all," he said.
The Times-Union attempted to contact Latvian officials through the Soviet embassy in Washington.
The embassy consul, R. Malishauskasi said Latvian officials had been asked more than two weeks ago to comment on the charges against Hazners but, at press time, no response had been received.
9Dr. Schneider, who has written a book on the Riga ghetto, said she remembers clearly that members of the Latvian Legion went out of their way to gain favor with the Nazis.
10"These high Latvian Legion officials were so anti-Semitic that it was unbelievable. For the German Nazis, what they were doing was the policy of their country. But Latvia, for all practical purposes, was overrun and occupied by the Nazis. So in addition to what the officers did, they were collaborating with those who had overrun their country," she said.
Dr. Schneider recalls an "unbelievable experience" when 11"because the Latvian guards around the ghetto were being so brutal to the Jews, the German commander had to intervene to stop it. Can you imagine a Nazi having to protect Jews?"
A detailed look by The Times-Union into Hazners' past did, although he declined to cooperate, reveal a great deal of information.
Hazners, along with his 65-year-old wife, Elza V. Hazners, entered the United States in New York City on Aug. 23, 1956, coming as "displaced persons" from Germany.
According to the biographical "Who's Who in the East," Hazners was born July 23, 1905, in Latvia and, from an early age, chose a military career.
He joined the Latvian Army in 1926 and attended the Latvian Military Academy in Riga from 1929 to 1931. He remained in the army and, in 1937, was appointed to its general staff.
12Hazners is listed as a major in the Latvian Legion from 1943 to 1945, a career wich ended with the defeat of Nazi forces.
13After the war, Hazners fled to Germany to escape Russian troops and became active in Latvian emigre associations, serving on the Latvian National Council from 1946 to 1956 and the Committee for a Free Latvia. In 1960, already in the United States, Hazners was chairman of that organization.
For many years the Hazners family, including their two sons, Daumants and Vitauts, lived in New Jersey. On Aug. 19, 1966, Mrs. Hazners became a naturalized citizen, swearing allegiance to her new homeland in a New Jersey federal court.
Vilis Hazners, however, was never naturalized and remains under the "permanent resident alien" status he was granted on entering the county.
The Hazners and their sons first came to the Washington County town of Dresden as summer vacationers, visiting a hotel operated by Eduards and Lydia Krasts, also Latvian natives.
The Krasts had moved to Dresden from their home on Long Island "for a very simple reason. This part of the country reminded us of the old country, the same climate, the same trees, the same change of the seasons, many, many things," Mrs. Krasts recalled.
The Krasts were the first Latvians to reach Dresden but their presence, operating an old hotel, drew others.
"Many people would come up and visit in the summer and some eventually bought land here," she recalled.
There are now several Latvian families living in Dresden, Mrs. Krasts said.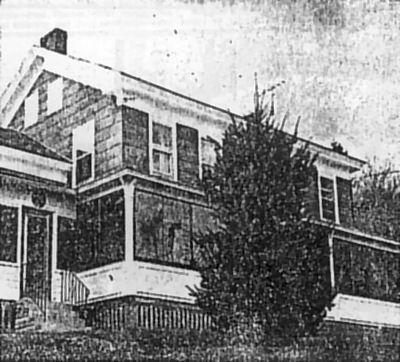 HAZNERS' HOME — Just off Route 22 in the Washington County town of Dresden, Vilis Hazners, who is mentioned in official Latvian publications in connection with wartime atrocities, now lives in this home with his wife and two grandsons. (Staff photo)
Records on file at the Washington County courthouse show that Hazners' son Daumants, and his wife Vija Rita Hazners, bought several parcels of property including a farmhouse, totaling about 400 acres, on May 29, 1968, from Edward J. and Elsie J. Archambault.
The deed for the property does not indicate the price paid, although an $8,000 mortgage was given the Archambaults by Daumants Hazners on May 24, 1968.
Records show the mortgage was paid off last January.
Elza V. Hazners, Vilis' wife, registered to vote in Dresden on April 10, 1975, listing "Republican" as her party of choice.
She told the board of elections that she had been living in Dresden since 1972.
Mrs. Krasts said she has known Hazners for many years. He has been retired for some time, she noted, and spends his days writing many books, in the Latvian language. "He is suffering from heart trouble and is a very sensitive and nice man," she said.
Neighbors also speak well of Hazners, saying he is an industrious man who spends many days working on the property, a well-kept garden and, along with his wife, a charming home.
The Hazners live with their two grandsons, one of whom attends Whitehall High School.
Only members of the close-knit Latvian community in Dresden appear aware of the allegations against Hazners.
"We have heard about it and we were very surprised and shocked," said Mrs. Krasts. "If you knew him as we did you wouldn't believe any of it was true. 1 can't believe it. When somebody is like that it shows. I don't feel he has committed any crimes, he only obeyed orders."
Mrs. Krasts said "only the Germans can be blamed for killing the Jews," arguing Latvians were never willing participants in war crimes.
That is not what the Immigration and Naturalization Service now contends.
14Last week, deportation actions began against two Latvian emigres, Maikovskis, Hazners' friend and an alleged officer in the Latvian police, and Karlis Detlavs of Baltimore, an alleged Latvian Legion soldier. Both are accused of participating in the massacre of Jews.
Their situations differ from that of Hazners for one critical reason.
Unlike Hazners, both Maikovsks and Detlavs entered the United Slates before 1952, when immigration requirements obliged would-be U.S. residents to declare they had never committed war crimes.
Both Maikovskis and Detlavs swore they had not and if found to have lied will be deported.
But Hazners was never asked that question since the requirement was removed four years before his entry.
So even if it should be proven that Hazners committed war crimes, according to an Immigration and Naturalization Service spokesman, it is "doubtful" that action would be taken against him.
15Investigation of alleged war criminals by the Immigration and Naturalization Service was seemingly at an end until just a few years ago, when several congressmen and persons concerned with locating war criminals, such as Dr. Schneider and several Israel-based former Nazi victims, began accusing the service of allowing war criminals to remain illegally in the United States.
More than 30 years after the war crimes were committed, locating the perpetrators is not an easy or popular task.
16A recent television documentary on suspected war criminals in the United States surveyed a neighborhood bar in Mineola, near the home of Boleslavs Maikovskis.
Unanimously, those surveyed said the past should be forgotten and Maikovskis allowed to remain in this country.In Dresden, a bartender nearby Hazners' home said he would "sooner see the government punish those guys who went to Canada to escape fighting for their country in Vietnam than I would some ex-Nazi."
17In Dresden and Whitehall, those who know Hazners, when told of the allegations against him, still could speak only praise.
Dr. Schneider, who lost many members of her family at the hands of the Nazis, is not prepared to be sympathetic.
18"It is an outrage that can only make our young people cynical about how easy it is to get away with mass murder," she said. "Why should we ever prosecute someone who is a mugger or someone who just commits one murder when these people how shown us, have shown the world, how cheap they viewed human life to be?"
POSTED — The home where Vilis Hazners lives in the town of Dresden is heavily posted with no-trespassing signs bearing the name of his son, Daumants Hazners. (Staff photo)
Analysis
Unlike a great deal of subsequent incendiary press coverage, Dicker's initial report simply attempts to set out the facts as they were represented at the time.
Contention versus Fact
---
| | |
| --- | --- |
| [1] | When the proceedings against Hāzners failed, the U.S.S.R. subsequently denounced Hāzners specifically by name at the United Nations as a war criminal active in today's Belarus, who burned a synagogue and incinerated his victims (1983). Other fabricated Soviet accusations included killing hundreds of Jews (per INS cable) while the police chief in Abrene, Latvia. |
| [2] | The synagogue on Gogol Street was burned down on July 4, 1941, three days after the Germans entered Rīga. In culling fact from propaganda, Holocaust scholar Andrew Ezergailis believes the Jewish victims had already likely been killed before the synagogue was destroyed as the alleged Latvian perpetrators, other than Arājs, could not have been present. The story of Cukurs is far more complex as well; while a member of Arājs, Arājs had him join as their garage mechanic to escape being killed by the Nazis as a Soviet sympathizer. |
| [3] | Sunday Times Union, Albany, New York. November 28, 1976. |
| [4] | Massgraves and Concerts, The Riga Ghetto, 1941-1943. (1976) |
| [5] | Legionnaire diaries describe German artillery which failed to fire on the Red Army because, if they protected the Latvians, they would reveal their own position and be subject to attack. |
| [6] | The estimated cost to date apparently became known to Hāzners' defense, as they complained that if Hāzners had ,000,000 he could also afford to fly in witnesses from other continents. |
Updated: June, 2017