CASE FILE

Vilis Arveds Hāzners

Press Coverage
Students Protest At Accused Nazi's Home
ALBANY STUDENT PRESS
, November 7, 1979
unattributed
Original available at the Albany SUNY Library, retrieved 17-Sep-2015
.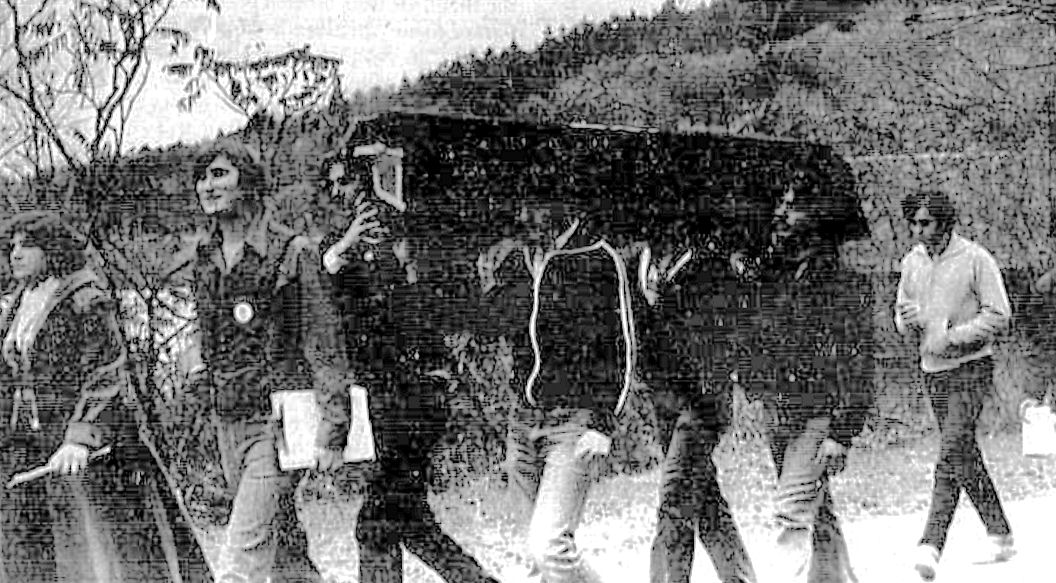 Rallying Students carry a symbolic coffin in remembrance of the Holocaust.
The ceremony was part of a JSC vigil near the home of an alleged Nazi criminal.
Photo: Margaret Brewster
Waving anti-Nazi posters and carrying Holocaust memorial candles, close to fifty SUNYA students and Albany residents staged an hour-long demonstration Sunday, outside the home of accused Nazi war criminal Vilis Hazners.
SUNYA's Jewish Students' Coalition (JSC)-Hillel, which sponsored the event, transported people by bus to Hazner's home in Dresden, New York. The group walked approximately a quarter of a mile on an isolated road to the house, where they rallied in an effort to precipitate action on Hazner's case.
Hazners was not at home. A source revealed that the 74-year-old Latvian national was forewarned about the vigil by a SUNYA student.
Although never convicted of war crimes, Hazners has been charged with sending Jews and other minorities to death camps of pre-World War II Latvia. In addition to charges of physical abuse, he has been held responsible for herding masses of Jews into a synagogue in the Latvian town of Riga, before setting it on fire.
After being charged with deportability under the Immigration and Nationality Act and the Refugee Relief Act, deportation preceedings [sic.] were begun against Hazners in 1977. Hazners apparently presented false information on his entry visa, thus enabling him to enter the United States. His trial continued for two years with post-trial briefs filed by each side three months ago.
Led by coalition leaders, demonstrators recited speeches, songs, and prayers which depicted the pre-war Holocaust era and reflected concern over the possible presence of other alleged criminals in the area.
In addition, pallbearers carried a simulated coffin, representing the 12 million who died in the war by Nazi persecution. The coffin was placed at the entrance of Hazners' driveway, with 13 memorial candles placed on top.
Throughout the ceremony, students scrubbed the asphalt with toothbrushes, an act symbolizing Nazi punishment inflicted on Jews. According to JSC-Hillel President Mark Gurvis, Jews were subject to beatings while involved in this activity.
While the vigil was to be a peaceful and orderly demonstration, the group expected to encounter much police surveillance and the presence of presumed neo-Nazi organizations such as the Christian Defense League.
However, a sole patrolman arrived at the scene to request that the group leave Hazners' driveway. He drove away moments later.
Gurvis explained that vigil participants were instructed to conduct a peaceful rally, refraining from obscenities and destroying Hazners' property. Before boarding the bus, each person signed a form which set guidelines for behavior and freed JSC of all consequences resulting from anti-social actions.
According to Educational Director of Albany's Temple Israel Rabbi Paul Siiton, an active vigil organizer, JSC-Hillel received several threatening phone calls regarding the vigil. One person threatened to "blow up the Jew dorm" while another said, "You kykes are worse than niggers."
Students questioned JSC-Hillel's right to stage a vigil before the court handed down its decision "There was a lot of heat on campus," said Gurvis, "but we didn't go to punish Hazners but to make a point—that being for due process of law. Hazners admitted to lying on his visa in 1956 and the hearings have been going on for years. We're requesting a fair hearing and a quick one."
While Student Association (SA) received complaints regarding SA's funding of the vigil, SA President Lisa Newmark said JSC-Hillel's project fell within the rules of the finance policy. Funds were allotted for advertising only and transportation was paid for by vigil participants.
According to SA Vice President Tito Martinez, who attended the vigil, tile event "was not an SA event."
"The project was within the guidelines of JSC and SA could not stop or restrain the group. We didn't fund it, encourage it, or discourage it," said Martinez.
He added that he was glad he attended the vigil. "It's not a question of infringing on his rights but to fix a wrong done by the individual. Enough evidence has been presented against him."
"The demonstration called attention to the slow process of the U.S. Courts, 149 of these criminals have been employed by U.S. Intelligence agencies since the end of World War II. And not one of the over 200 convicted criminals has actually been deported," said Silton.
"I don't want my grandchildren to say to me, 'When you found out about the war criminals, why didn't you do something about it?' I have. These students have," he added.
An ABC news and camera crew interviewed ralliers and filmed the event. According to ABC film producer Richard Gudoll, the footage will be used in a documentary on Nazi war criminals in America. It will be aired in December or January.
Analysis
Perhaps the most notable aspect of this and other protests is that the perpetrator delivering the lie that Hāzners was a Nazi war criminal had already defected to the United States and confirmed the Khrushchevian plot against the Soviet Union's most troublesome nationalities. Instead, false allegations are heaped upon Hāzners while the ABC network records it all for a "documentary" on Nazi war criminals in America.
Surely the basis for and account of the vigil at Hāzners' home could not have delighted the Kremlin's propagandists more:
repetition of the bogus allegation of a "pre-war Holocaust era" in Latvia, meaning
Latvians ran their own death camps murdering Jews and other undesirable minorities long before the Germans arrived;
repetition by Gurvis of the debunked "lied on enty-visa" allegation, and that Hāzners admitted to lying; moreover, Gurvis' quest for "a fair hearing and a quick one" reveals the truth: any trial which does not convict Hāzners is not "fair";;
mention of post-trial briefs with no mention that the INS case failed for lack of credible evidence;
expectation that actual neo-Nazis were going to mobilize and rush to confront their compatriot's detractors—we indicate elsewhere that Rabbi Silton even spent his own money to hound Hāzners, convinced he would be tied to actual Nazis in the U.S.;
even those not associated with organizing the vigil but attending believe "enough evidence has been presented," again, regardless that the proceedings have not yet run their course;
and last but not least, Silton fulminates over the hundreds of Nazis living among us having convicted them all in his personal court of higher morality, repeating the canard of "149 criminals" working for the CIA.
Elsewhere we have mentioned Silton went on to be lauded by members of Congress and to bless them in session. As for the refusal by the JSC to take responsibility for anything that happened to the demonstrators after inciting and organizing and transporting them to Hāzners' front door, Mark Gurvis assumed the Executive Vice Presidency of the Jewish Federations of North America in 2013.[1] We wonder if he too believes Hāzners' ultimate acquittal was a miscarriage of justice.
---
Updated: October, 2016