Scott and Jon Lee Anderson
Inside the League: The Shocking Exposé of How Terrorists, Nazis, and Latin American Death Squads Have Infiltrated the World Anti-Communist League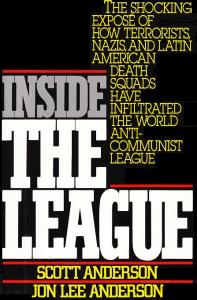 Inside the League: The Shocking Exposé of how Terrorists, Nazis, and Latin American Death Squads Have Infiltrated the World Anti-Communist League
Anderson, S. and Anderson, J.L.
ISBN: 9780396085171
YEAR: 1986
PUBLISHER: Dodd, Mead
Nazis Reinvent Themselves as Anti-Communist Heroes
Latvians Among Them
As Ieva Zaķe summarizes in her paper 'THE SECRET NAZI NETWORK': POST WORLD WAR II LATVIAN IMMIGRANTS AND THE HUNT FOR NAZIS IN THE UNITED STATES,
In 1986, Scott Anderson and Jon Lee Anderson wrote that the participation of Eastern Europeans such as Latvians in the Holocaust was "one of the least-told stories in modern history"[a] because these people had been "recruited by American and British intelligence, brought into the United States and Canada, allowed to rise to prominent positions in their émigré communities, and ultimately to revise history."[b]

---

| | |
| --- | --- |
| [a] | Scott Anderson and Jon Lee Anderson, Inside the League: The Shocking Expose of How Terrorists, Nazis, and Latin American Death Squads Have Infiltrated the World Anti-Communist League (New York: 1986), 12. |
| [b] | Ibid, 13. |
Inside the League is among the earliest "exposés" alleging British and American intelligence knowingly recruited confirmed former Nazis as Cold War agents and whitewashed their past. "Latvian Nazis" are a feature common in this conspiratorial narrative, including the allegation that Daugavas Vanagi ("Hawks of the River Daugava"), founded by Latvian Legion[1] veterans, is an organization of war criminals.
In checking to see where it might be cited, we found it has made its way into conspiracy-theory crackpot sites, scholarly papers, and university course plans and student papers. We also found it in the collection of the United States Holocaust Memorial Museum:
---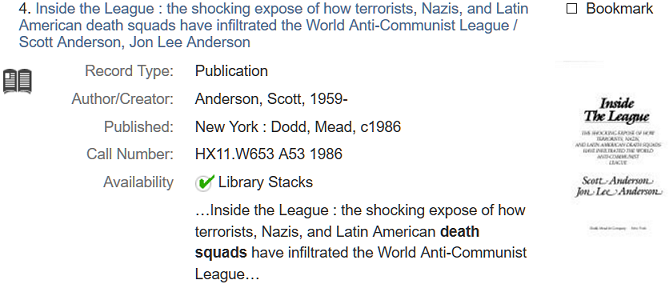 Searching the title brought up multiple matches for "death squads."
---
Even though Latvians comprise only a sliver of the Andersons' conspiratorial pie, given the recognition accorded Jon Lee Anderson for his journalism[2] and the legitimacy accorded the book, we examined its allegations regarding Latvians more closely.
---
| | |
| --- | --- |
| [1] | The Latvian Legion were Waffen-SS troops, functionally subordinate to the Wehrmacht structure, deployed on the Eastern Front against the Red Army. |
| [2] | Scott Anderson is a novelist, and Jon Lee Anderson is an investigative journalist and long-time contributor to the New Yorker magazine, viz. www.newyorker.com/contributors/jon-lee-anderson. The authors are brothers. |
Updated: May, 2017