Christopher Hale
Hitler's Foreign Executioners: Europe's Dirty Secret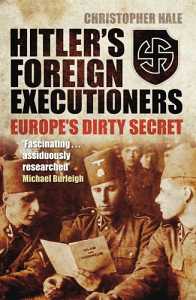 Hitler's Foreign Executioners: Europe's Dirty Secret
Hale, Christopher
ISBN: 9780752459745
YEAR: 2011-10-01, earlier edition published in 2009
PUBLISHER: History Press
It's certainly difficult to miss Christopher Hale's book with its provocative title.
What drew us to it, on the one hand, was that in his introduction Hale named historians with whom he corresponded in the course of writing his book, for example, Andrew Ezergailis. Serious students of the Holocaust in Latvia would immediately recognize him as the foremost authority on the subject. We were also gratified to see mention of the new generation of respected scholars, such as Matthew Kott.
On the other hand, paging through for citations of Ezergailis' works, we found this caveat nestled among the book's endnotes (our emphasis):
Ezergailis (1996), pp. 242–3. The 'Landgericht Hamburg' holds records of a number of war crimes trials of German and Latvian SD recruits who served in Latvia, including testimony by Hemicker. StA Hamburg 141 Js 534/60 Anklageschrift vom 10.5.1976 gegen Viktors Arājs. I have made significant use of Ezergailis' detailed account of the Latvian Holocaust throughout this chapter. I have, however, drawn different conclusions from his evidence.
Hence our curiosity. What different conclusions? On what basis? We page through Hale's narrative for clues.
Updated: May, 2017