2008
Voices from Russia, widely read Russia-focused blog
Reposted at 02varvara.wordpress.com from www.ruvr.ru, published 16 March 2008[1]
Glorification of Nazism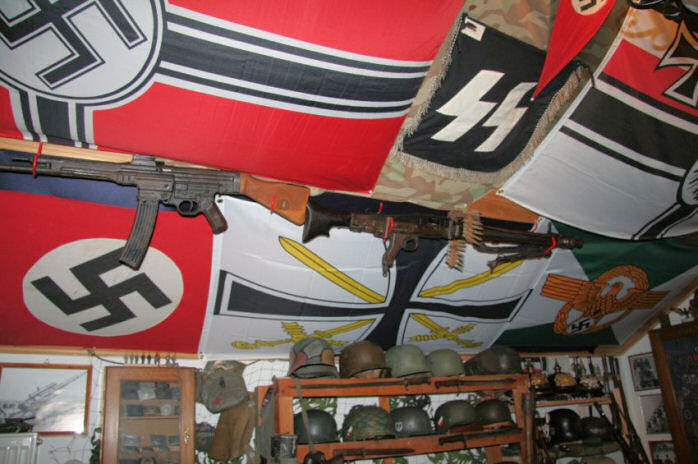 This photo appears in a
Der Spiegel
article about the rise of German neo-Nazism, and is completely unrelated to this article. The original "Voice of Russia" article is no longer available online.
1Authorities in Riga approved a march by former Waffen-SS legionaries due to be held on Sunday. These marches have become a regular occurrence in Latvia and neighbouring Estonia. 2Meanwhile, organisations opposing the glorification of fascism were denied permission to hold their own rallies today. Earlier, the Latvian Socialist Party published a statement strongly condemning any attempts to revive the Nazi ideology. 3The government, however, seems to completely ignore the fact that the notorious Waffen-SS divisions that operated in countries under German occupation during the Second World War were declared illegal by the Nürnberg Tribunal. 4Incidentally, Hitler's book Mein Kampf is on sale without hindrance in any bookstore in Riga.
The Parliamentary Assembly of the Council of Europe has repeatedly voiced concern over the idolisation of fascism in a number of European countries. 5In Fieldkirchen in Austria, a local ultra-right group and German neo-Nazis staged a gathering under the slogan "A Jew Was and Remains an Enemy". In Germany, Udo Voigt, the leader of the extreme right-wing National-Democratic Party, announced recently, "Our time has come". There are neo-Nazi groups in Hungary and other European countries.
Last autumn, 6Russia presented at the UN General Assembly session a draft resolution aimed to prevent the spread of Nazism and racist movements. It came as a big surprise when 33 countries, some members of the EU included, abstained from voting. A military expert, General Nikolai Leonov, told us how Russia could have acted in such a situation.
"We can discuss the issue in all international organisations, including the European Court in Strasbourg. Fascism can receive other names, but, its essence will always remain the same. All countries condemn this system, that is why we should be persistent to achieve our goals".
Russian MPs have long been discussing a draft resolution to ban neo-Nazi factions from spreading their activity in Europe. Moscow wants the UN Security Council to accept the initiative and make the resolution obligatory for all UN members.
16 March 2008
Voice of Russia World Service
http://www.ruvr.ru/main.php?lng=eng&q=24278&cid=56&p=16.03.2008
Analysis
This article is typical of the content manufactured by the Russian state propaganda apparatus.
Contention versus Fact
The event is a commemoration not a march.
The commemoration remembers those who died fighting against Soviet reoccupation and in hopes of restoring Latvian sovereignty. No "glorification of fascism" is involved. Russia-sponsored organizations would have been viewed as disruptive.
The Latvian Legion Waffen-SS were not declared war criminals. Furthermore, former Latvian Legionnaires seven erved as Allied guards of the most notorious war criminals at Nürnberg trials.
Mein Kampf was on sale at the time without hindrance in Russia as well. Sale was eventually banned in 2010 amid fears it was promoting extremism.[2] Russian-language translations continue to be available on the Internet.
Spurious mention of unrelated and genuine neo-Nazi movements allows for guilt by association—a common propaganda practice. This propaganda has garnered positive results for Russia judging by the Latvian Legion commemoration being denounced by Jewish activists as symbolic of the alarming resurgence of Nazism—and then being falsely equated to genuine neo-Nazi movements.
Russia brands anything calling for an honest accounting of Soviet and now Russian atrocities against the peoples of central and eastern Europe as "fascism." First and foremost among Russia's targets is to forever quash public commemoration of the Latvian Legion.
Investigation
The "convicted at Nuremberg" contention brands this as Russian propaganda and, via its reposting, unmasks those who believe its lies.
---
| | |
| --- | --- |
| [1] | Article published at 02varvara.wordpress.com/2008/03/16/glorification-of-nazism/, retrieved 11 June 2015, originally carried at "The Voice of Russia", now part of the state-run "Sputnik" news network. |
| [2] | Russian editions were published in: USSR limited edition for party workers in the early 1930's, 1992, 1998, 2002, and 2003 (ISBN 966-7921-35-1). |
Updated: May, 2017