Christopher Simpson
Blowback: America's Recruitment of Nazis and Its Effects on the Cold War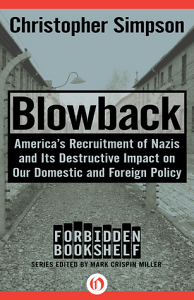 Blowback: America's Recruitment of Nazis and Its Effects on the Cold War
Simpson, Christopher
ISBN: 9781555841065
YEAR: 1988, republished 2014 with new author's foreword
PUBLISHER: Weidenfeld & Nicolson
"Blowback is the fullest and most authoritative account ever written of America's collaboration with Nazi after World War II, and of the long-range effect this has had on the nation's domestic and foreign policy. Drawing on extensive first-hand research and a wealth of documents previously classified or never before made public, Christopher Simpson has written a major and often startling work about the extensive connection between high-ranking American officials and ex-Nazis and collaborators, and about the effect this relationship has had on American society and the cold war." —First edition dust jacket
While a dated work, Simpson provides a fresh foreword for its 2014 republication as part of the "Forbidden Bookshelf" series.[1] Included also is his "suppressed" overview prepared for the government, but ultimately not released, overview of the 2006 declassification of CIA documents related to "former Nazis."[2] Simpson contends the declassification not only corroborates but amplifies his 1985 work.
Read the announcement of the CIA declassification here.
Simpson's personal revalidation of his work renders it both current and relevant. Sifting through his historical summary, he alleges that the hunt for U.S. government-employed Nazis included "about 60,000 persons who are known to have been senior Nazi Party officials, members of the SS, identified as war crimes suspects during 1945–1947, or part of collaborationist murder squads the Nazis operated on the Eastern Front."
The question, of course, is how were these lists compiled? How to tell the relevant and factual from the spurious and false? With respect to the Waffen-SS, "Latvian Legion," does Simpson count legionnaires among the ranks of Nazi war criminals?
Focusing on the Simpson's allegation of a Latvian–Nazi connection, what can we say about the quality of his scholarship?[3] What damning information do declassified CIA documents reveal about that purported connection—information which caused Simpson to double down on his allegations in the 2014 reissue of his work?
---
| | |
| --- | --- |
| [1] | The series purports to bring suppressed inconveniences back to life. "Open Road Media announced today Forbidden Bookshelf, a series of books curated by Professor Mark Crispin Miller of New York University. Forbidden Bookshelf titles fill in the blanks of America's repressed history by resurrecting books that focused on issues and events that are too often left in the dark, including abortion, organized crime, the CIA, and financial inequality." press release at markcrispinmiller.com/2014/06/forbidden-bookshelf/, retrieved 25 February 2015. |
| [2] | These included CIA files on all Baltic individuals investigated as possible Nazi collaborators, largely based on Soviet-originated allegations. These files also include cables which demonstrate the Justice Department's collusion with Soviet authorities. |
| [3] | Give Use Your Tired, Your Poor, Your Nazi Scientists review in the New York Times Book Review, May 8, 1988, by Serge Schmemann, the Bonn bureau chief for The New York Times and previously a Times correspondent in Moscow. Retrieved 13-January-2016 |
Updated: June, 2017